Ttalk.info
[ Home ] [Tech Index ] [ Picture This ] [ Autojumble ] [ Car Lists ] [ Search ] [ The53 ] [ FYI ] [ Ttalk ]
Turn Signal Relay
From the Inside Out
Every once in a while I get asked about the mysterious turn signal gray box for which Moss wants $159.95. Technically, according to the Workshop Manual, the box is called a Directional Indicator Relay Unit and is the heart of the turn signal system (along with the flasher). Externally, it looks like this: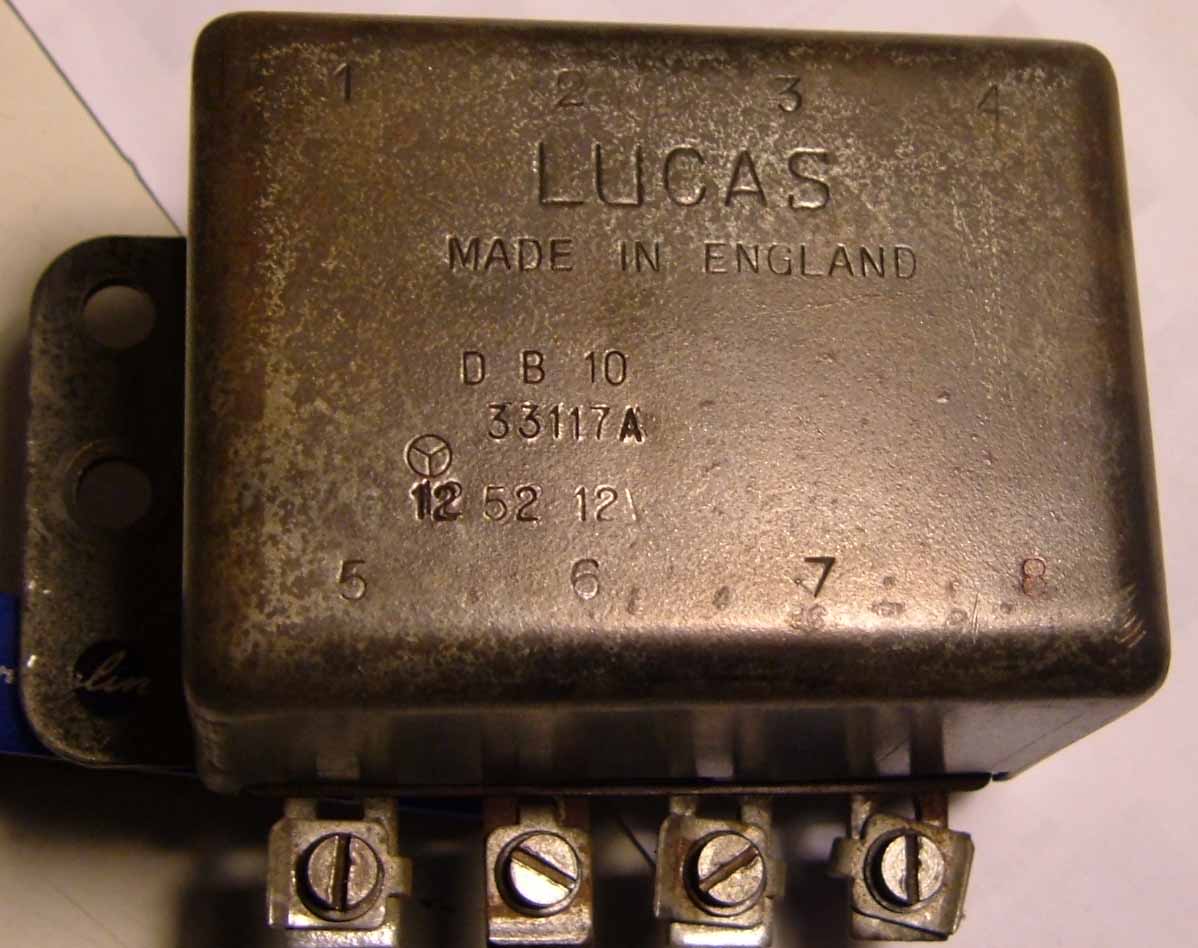 It has some of the expected markings on it showing that it's a Lucas product and when it was made. The most significant items are the eight wiring terminals around the bottom of the can. These are where it connects into the car's wiring harness and does its work.
Here's what it looks like inside and how it's wired: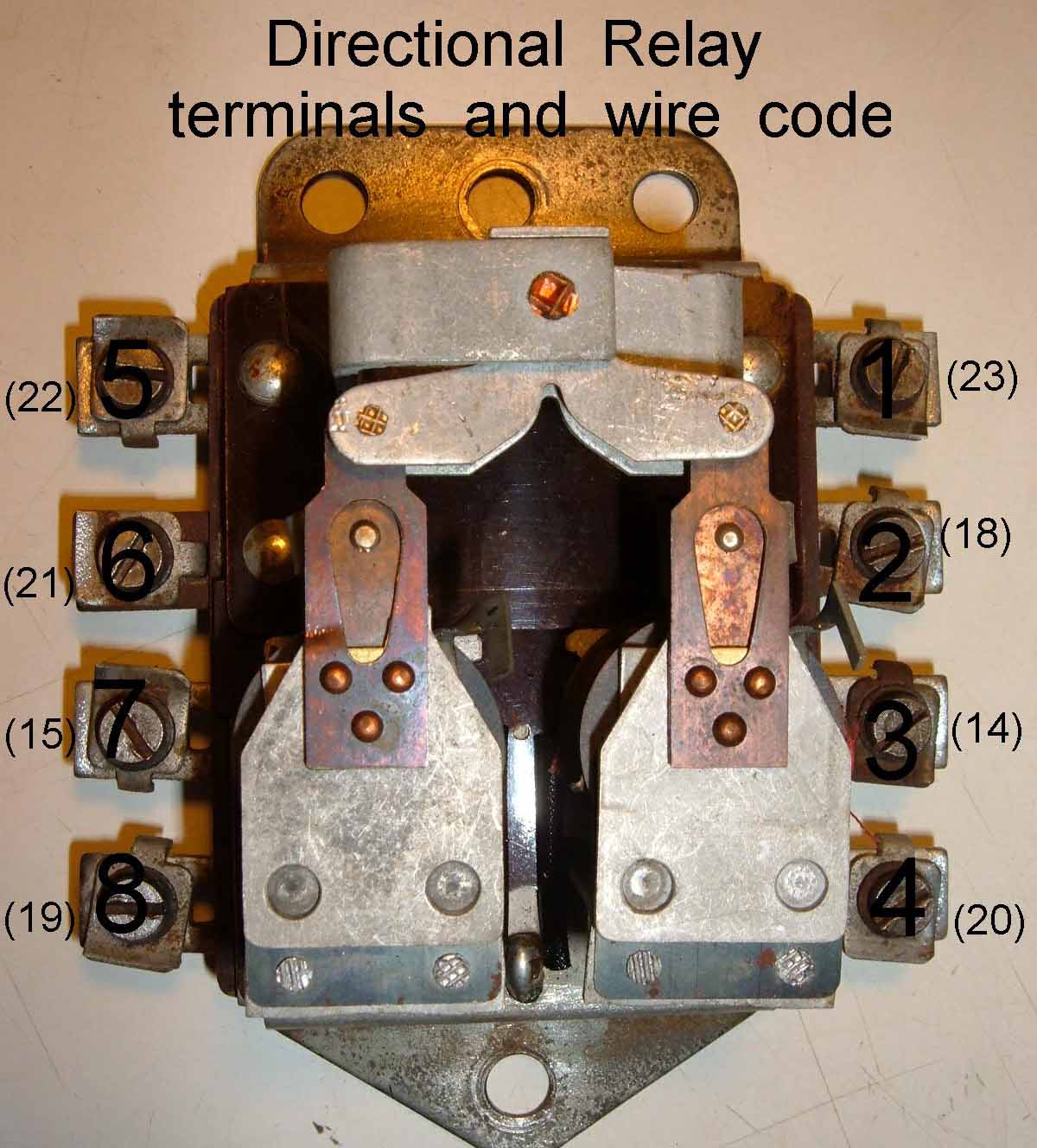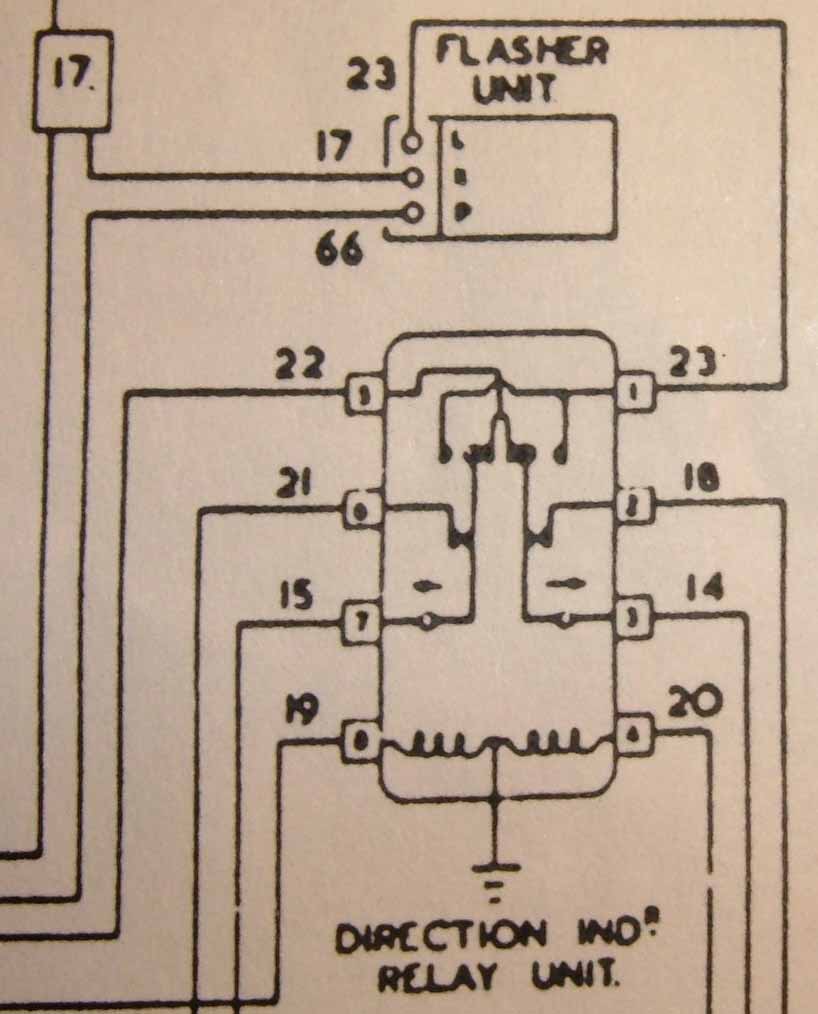 The numbers 14, 15, 18, 19, 20, 21, 22 and 23 are wire codes.
The simplest description of the relay, from an electrical engineering standpoint, is that it's a pair of double-pole, double-throw relays wire together. By far the best schematic drawing of the relay that I've ever seen was drawn by the owner of TC 5108, David Edgar. (The drawing below is taken from http://www.mg-tabc.org/techn-up/turn_signal_relay/turnsignalrelay.html )David redrew it this way:
The cover of the relay is held on by two 'dimples' at either end so that it can be easily removed: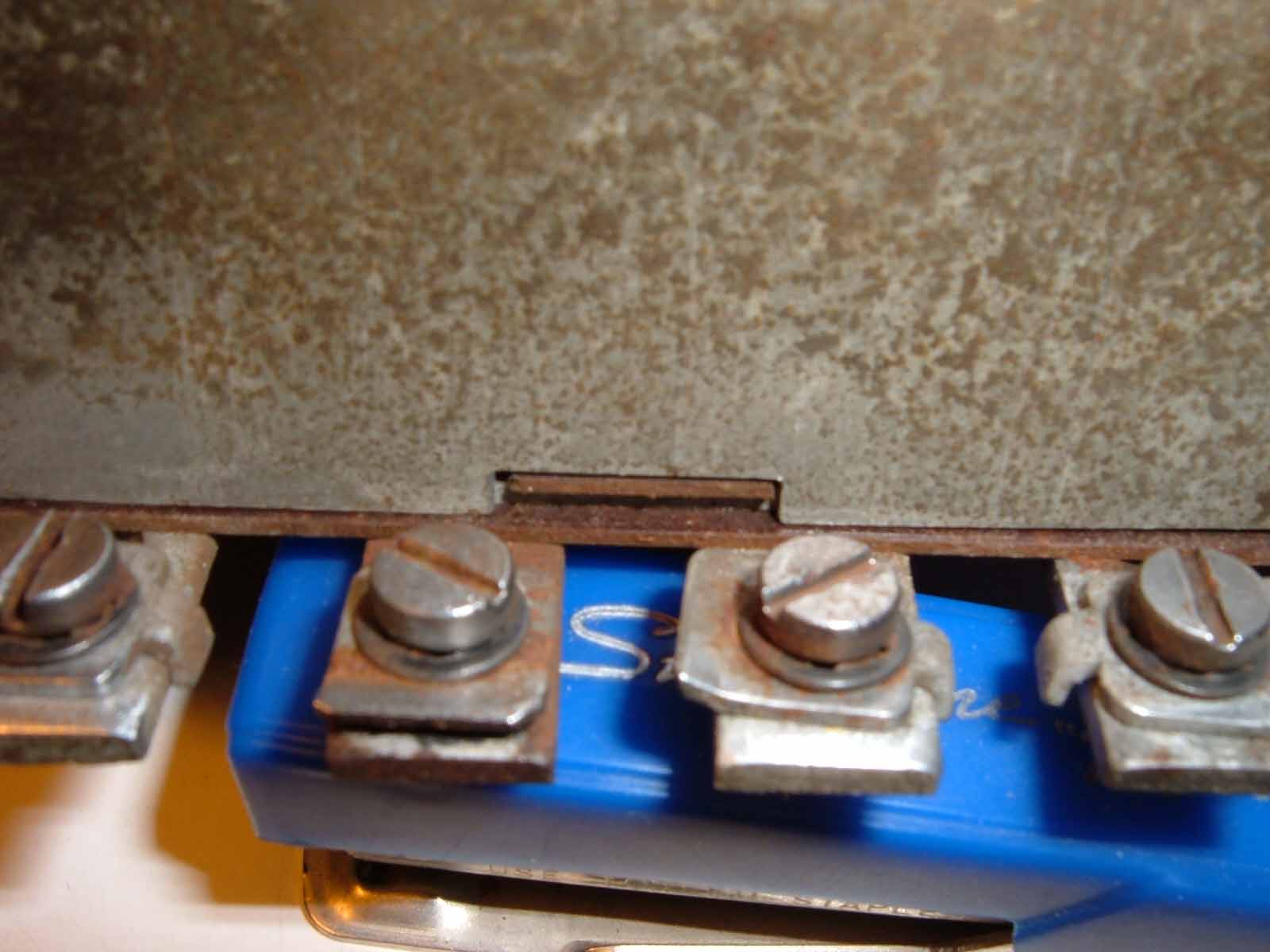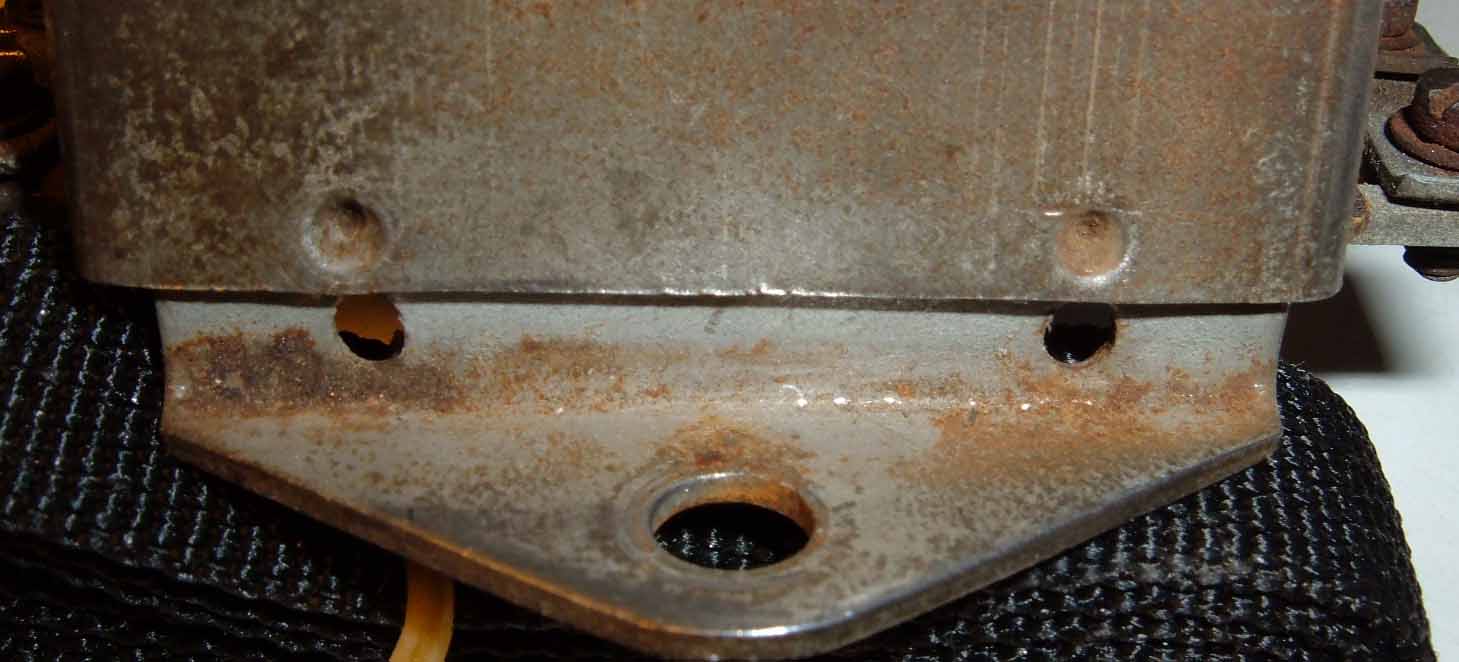 There is a tab located between terminals 6 and 7 to assure that the cover is oriented properly.
Inside of the case you can see the various sets of contacts and, if you actuate the turn signal switch with the cover off, you can see the contacts making and breaking. The relays are quite robust and should give many years of service with just an occasional need to swipe a piece of abrasive across the contacts.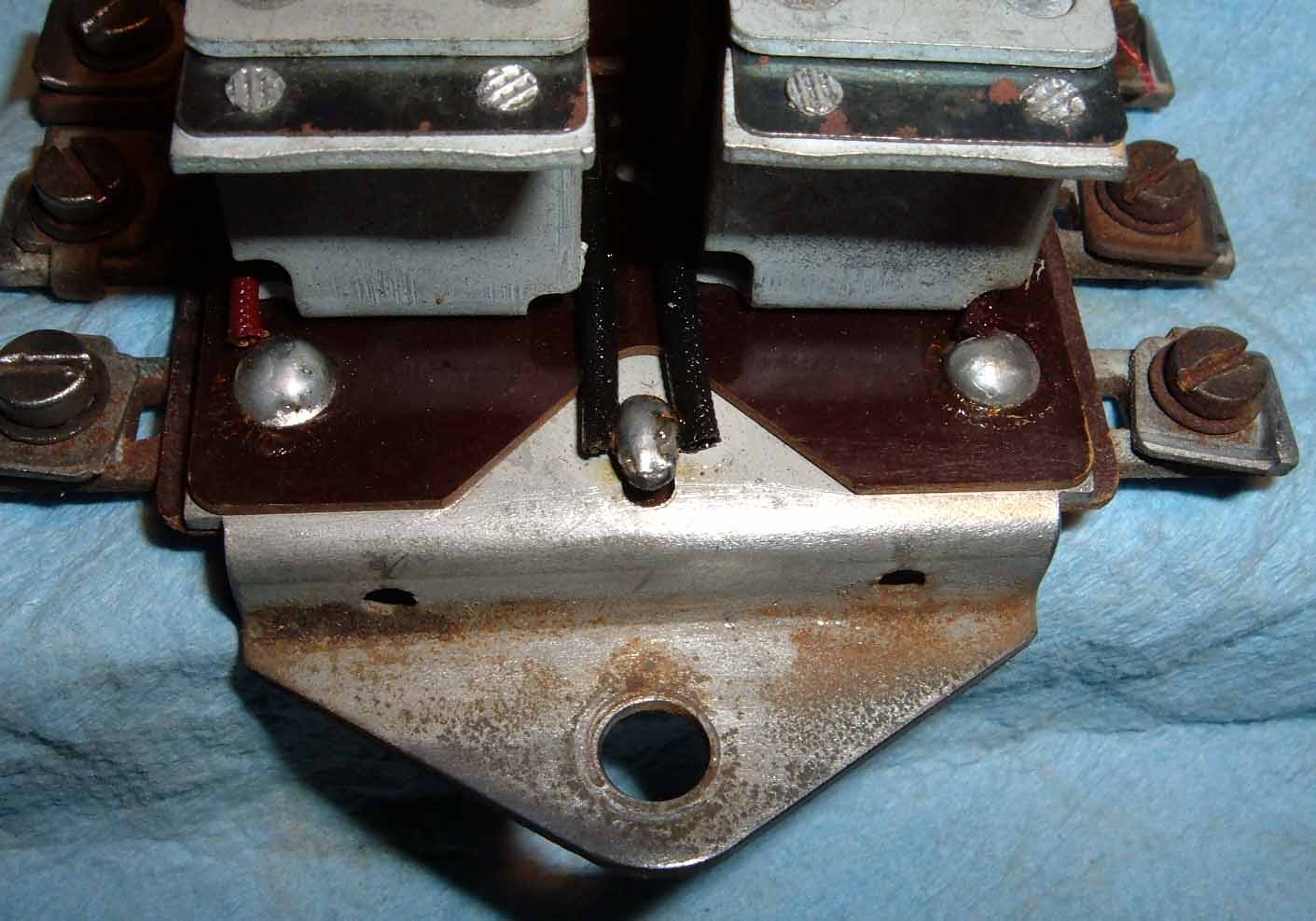 You should note that the two coils have a common connection that is tied hard to the relay can for a ground return path. It is of utmost importance that the relay can is properly grounded.
A text description of the relay's operation, written by Gene Burgess of Ontario, Canada, can be read by clicking here.