Roller Cam System from Len Fanelli
Abingdon Performance Ltd.
When only the best will do!
Click on images to enlarge.
XPAG / XPEG Roller Lifter Camshafts. A roller lifter cam will ALWAYS outperform a flat lifter cam of the same duration, with no cam / lifter wear. No ZDDP needed. (More HP & torque). 6 grinds from stock to all out race, including supercharged XPAG engines running on 15 lbs. of boost on methanol fuel! In production since 2006. Satisfied customer testimonials on request.
$1995 complete kit includes: camshaft, roller lifters, chrome moly heat treated .083" wall push rods. Also.Double valve springs, Super clean wire CNC coiled stress-relieved, shot-peened and heat set, alloy steel spring retainers and lower locators. All made in the USA. This is a period correct piece as was offered by Chet Herbert in the early 1950's.
Stock grind low RPM torque 1000 - 4500 RPM 5000 max RPM
. 200 degree duration on intake and exhaust.
Street Performance cam 2200 - 5500 RPM 6500 RPM max
. 210 degree duration on intake and exhaust.
Street Supercharged 2,200-5,500RPM 6,500 max RPM. 200 degree duration on intake, 210 degree duration on exhaust.
Boosted engines perform best with longer exhaust and minimal overlap.
Supercharged race modified
226 degree duration on intake, 236 degree duration on exhaust.
Normally aspirated race camshaft also available 236/236 duration.
All @ .050"
Valve lift on all cams is .430".
New products:
Flat lifter race cam designed to outperform the B&G 102,
email
information on request.
New for MG T-types --- CSI Ignition > Totally electronic ignition with 16 programmable advance curves.
Dynamometer proven with my roller cams.
Link to CSI
Call 914 420 8699 or
email
for current prices.
Roller rocker arms also in stock, $515 per set
with socket head pedestal bolts.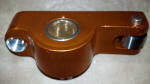 State of the art, new design, swirl polished engine valves, standard size
or larger
than MG valves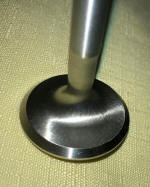 with
30 or 40 degree seat angles,
with Manganese Bronze guides and keepers - $225.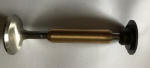 Teflon Positive Stop valve stem seals - $38 per set of 8.
(email) Len Fanelli
Abingdon Performance, Ltd.
Also on Face Book https://www.facebook.com/Abingdon-Performance-LTD-542231749286677/?ref=bookmarks
Phone: 914 420 8699