Door Handles / "cure" for slipping latch internal pieces by drilling/tapping handles and installing a washer.
Door Hinges / access for hinges without having to remove side curtain & hood hardware.
In Boot Lamp wiring / moving Lucas connectors to a dry spot in the boot and using TF reflectors for "higher" turn & brake lamps bridged from originals.
Aux ELE Pannel / or "where can I install some more switches and fuses without bastardizing the dash".
Bonnet Storage / For those who say "it's a joke..you can't fit anything in there" (Mines pretty packed up!)
Boot Storage / Serving Tray storage for wasted space on sides of the diffy! (A wealth of room for spares!)
I'll let you decide if you want to post any of this to ttalk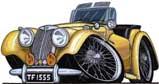 Cheers & Best Regards,
David 55 TF1500 #7427
Images are thumbnails
Aux Elec Panel
Elec Aux Fuses

For a detailed look at the panel just click HERE
Boot Storage Covered

Boot Storage Packed

Boot Storage

Door Hinge Access
Door Hinge Panel On
Door Latch Inside

Gasket Trick

In Boot Lamp Wiring