Sheward TF Auxiliary Electrical Panel
There's been a lot of demand from TF owners for more detailed information about David's Auxiliary Electrical Panel (among other things). David has agreed to provide detailed information about the construction and assembly of the panel. This includes the AutoCad file. Here's David's description of what we have:
Bud,

Wrote a disclaimer to go with it:




Under dash Auxiliary Switch Panel for TF (TD?)
Hides under dash and attaches to support frames. No holes in dash.
Room under for extra fusing to wiring system.
On the one I did the "AUX ENGAGE: switches are used as a "pre-select" to the "A" knob on the TF.
i.e. Any switches in the "on" position will come on with the dash knob.
I run both a fog lamp and a driving lamp ...this allows me to select one or both...also my hunting lamp and a aux period dash map lamp.
I included the AutoCAD file so, if desired, one can edit the function names, or custom tailor for your needs.
Functions on mine have been changed over the years and now include a switch for wipers so I don't have to remove my lockable glove box doors to turn wipers on.
In the original configuration switches were as follows:
1: Fuel pump shut off (Labeled "NOS")
2: Hi Beam: was a relay for Hi-Beams but now operates a Reversing lamp on rear apron.
(Only operates when Lights are turned on and switch in on position.)
3/a1 MAP - Dash Map Lamp
4/a2 HUNT - Hunting Lamp on drivers side
5/a3 FOG L - Left front Driving Lamp
6/a4 FOG R - Right front Fog Lamp
(These 4 "preselect" from "A" switch on the TF supplied for Driving / Fog lamps)
7: HEAT / FAN Ceramic Heater ("FAN" bypasses heater to use as fan only in summer.)
8: Socket for standard Cigarette lighter. (MY Car is negative ground CAUTION recommended if you are still Positive ground configuration!)
9: This is a standard "Banana Plug" for accessories and trickle charging
(Not shown on the A/C file is that there is now a lighted period Lucas switch in line. This is wired directly to the battery for charging via my charger. I also use it for a variety of period accessories that I changed the plugs to banana plugs...tea pot, trouble lamps, defroster, etc.)
10: Also not shown on A/C dwg is switch added for wipers.
There is an inline fuse block on bottom of panel where I have added (hidden) fuses to a variety of my wiring...Headlamps, horns, Fuel pump, ect. Uses standard "old-school" glass automotive fuses.

Attached files/photos:
AutoCAD file (dwg)
jpeg of AutoCAD file
Excel File of rough drawing (xls)
jpeg of Excel file
Photo of panel as configured 2014

From the files (left "open" for editing) one should be able to custom configure a panel for your needs! Any competent fabrication shop should be able to cut & engrave the panel from that.

The AutoCAD file is to scale...the excel is not.
Here's what it looks like:
Here's how to make it:

Here's what the AutoCad drawing looks like:
For copy of AutoCad drawing click on mgtf_pnl_rev_5.dwg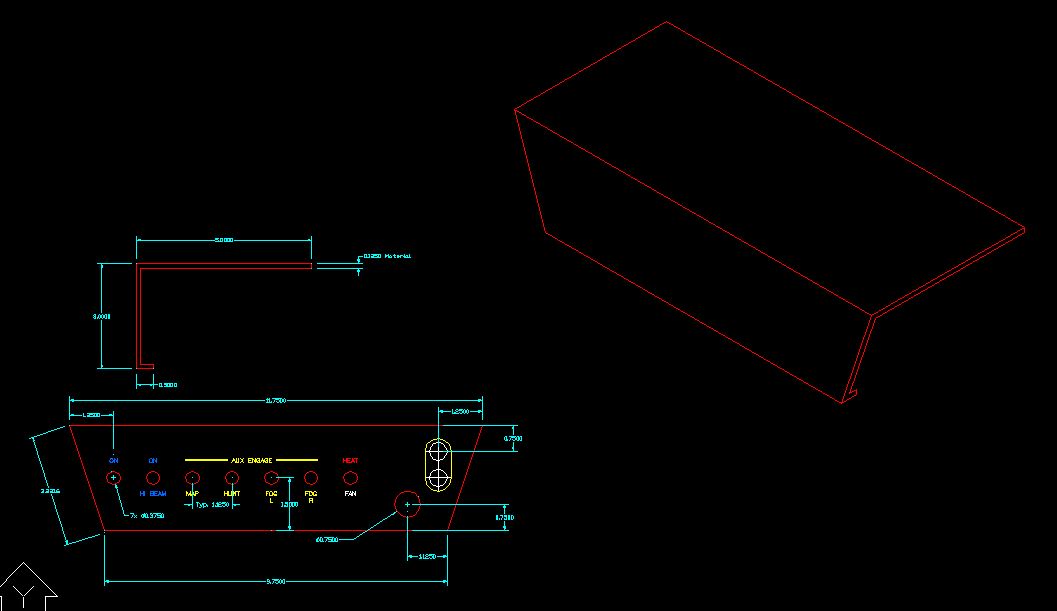 Drawing is available from Excel file (click for copy) MG-AUX-PAN.xls
Hopefully, this will allow you to emulate David's panel.
Page created 6/15/2014